I got you excited, didn't I?
Understandable.
Traffic is just one of those things. You can never have enough of it.
As a WordPress user, you're already ahead of your competitors since WordPress is inherently optimized for search engines and makes it much easier to attract traffic from Google.
Just a few tweaks to the basic settings of your site, and a slight change to your content strategy can result in a significant increase in organic search traffic to your site.
Not sure how?
Let me clearly spell it out to you.
1. Make Sure Your Blog's Running on Optimal Performance
An average user waits just around 3 seconds for your site to load before pressing the back button.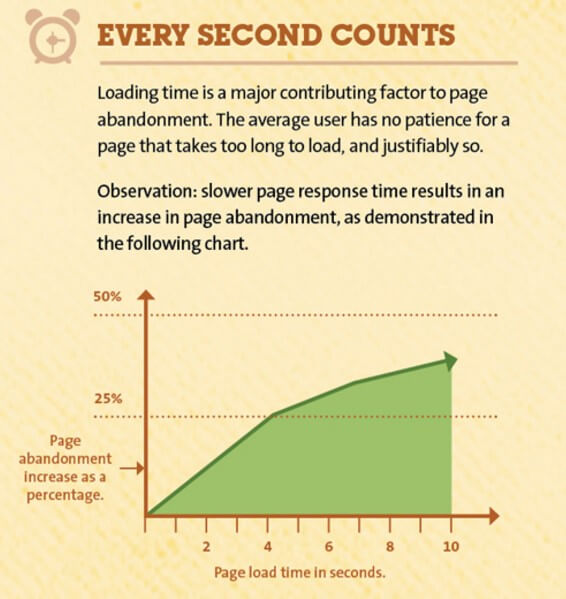 Source: Kissmetrics
If your site's performance is not up to the mark, you'll not only lose potential visitors but also suffer at the hands of Google's search algorithms since page speed is now one of the key search engine ranking factors.
You can use Google's free Page Speed tool to see where your site currently stands.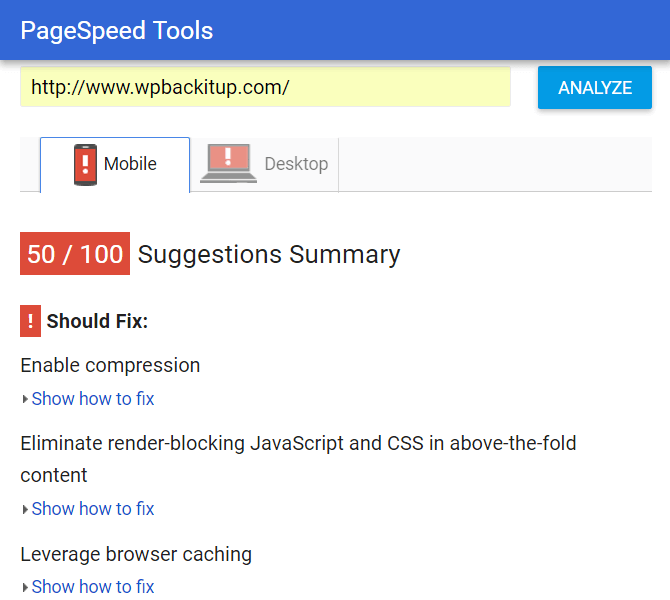 It not only gives you a basic analysis of your site's performance but also gives recommendations on to improve it.
Thankfully, optimizing your site's performance is really easy in WordPress, even for non-technical users.
– Reduce Image Size: Use WP-Smushit to compress all the images on your site. I also recommend using Lazy Load, a free plugin that loads images only when a visitor scrolls down your page, to speed up your page load time.
– Optimize Performance: Install WP Super Cache, one of the most popular WordPress plugins of all time, to set up basic to advanced performance.
– Use a Content Delivery Network (CDN): A CDN reduces the load on your website by managing your data consumption, and adds an extra layer of security to your site. Cloud Flare, a free CDN, should be enough for your site (unless you're an advanced user)
Website performance is a key user experience issue and has direct implications for your site's ranking and traffic.
So don't ignore it.
2. Think Mobile First
Just in case you didn't know, global internet traffic from mobile devices has now surpassed desktop and laptops for the first time ever.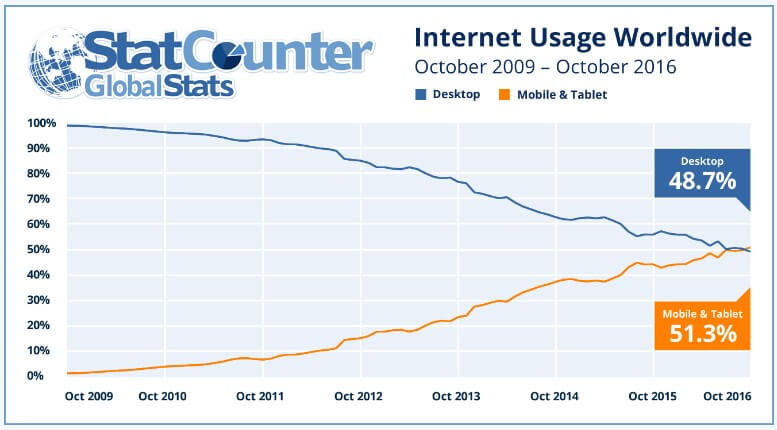 Source: Stats Counter
If your site isn't optimized for mobile visitors, you're compromising on the user-experience of more than half of your potential audience.
Google doesn't want that to happen.
Which is why it recently released its mobile first index which will primarily look at websites from a mobile user's perspective.
Any sites that fail to comply with Google's mobile friendly guidelines will suffer in search rankings.
So what should you do?
First of all, run Google's mobile friendly test to determine if your site is mobile compatible or not.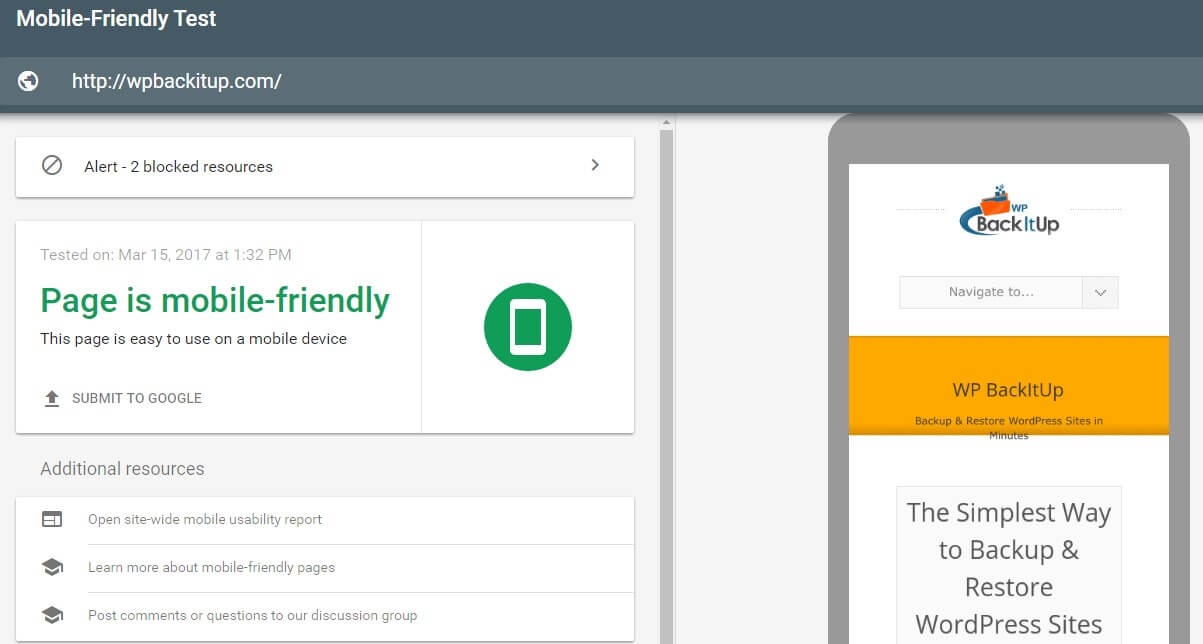 If you get the green light, good for you.
But even if your site isn't mobile friendly yet, don't worry.
WordPress makes it very simple to create responsive sites. All you need is a responsive WordPress theme (most new themes are responsive).
You can also turn your existing theme into a basic responsive website by using JetPack, a free WordPress plugin.
3. Get the Basics of SEO in Place
As I said earlier, WordPress is inherently optimized for search engines and is ideal for users with limited technical knowledge.
However, you still need to make a few small changes to set up a strong SEO foundation for your site.
Don't worry, it's easy.
– Install a WordPress SEO Plugin
WordPress SEO by Yoast is by far the best SEO plugin for WordPress sites. It's easy to set up and will help you quickly cover all the basic of SEO.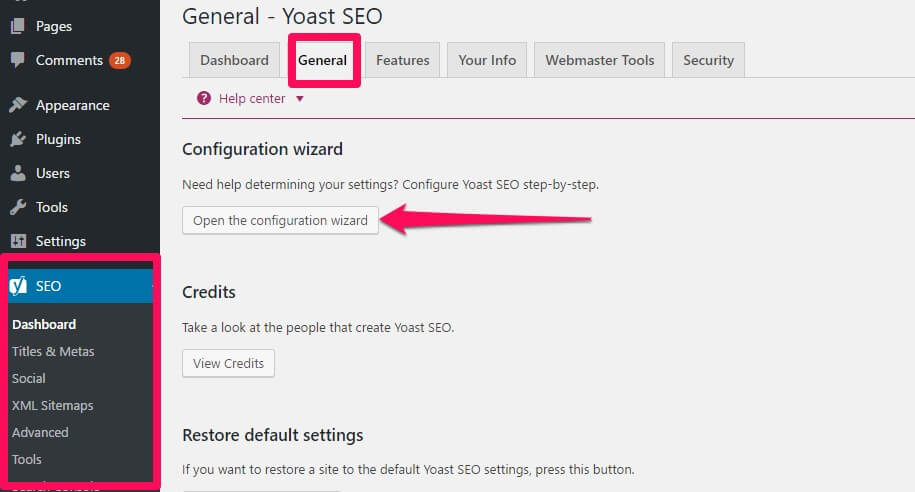 Once you install the plugin, just run the configuration wizard to get everything in place.
– Use a Mobile Friendly URL Structure
Head over to your blog's General settings, and change the permalink structure to keyword based URLs.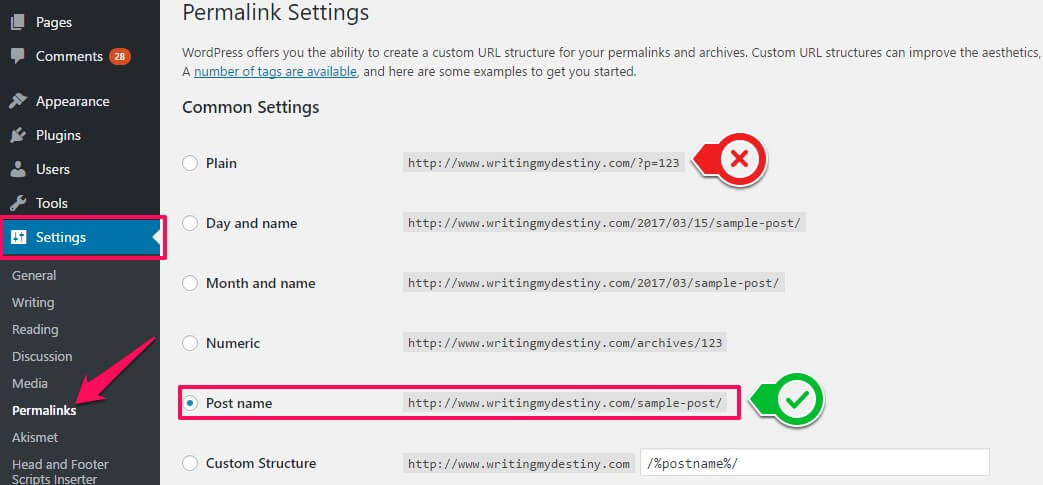 – Preferred Domain
Visit your Search Console account and select the preferred domain for your website (Search Console  → Site Settings)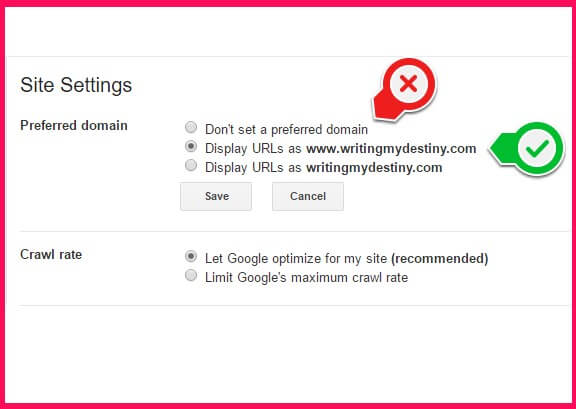 Doing so will tell Google which URL structure to index for your website and help you avoid any duplicate content penalties on your site.
4. Optimize Your Content for Topics, Not Keywords
Now that we're done with the boring stuff, here's my favorite part; content creation.
Content fuels your SEO strategy and is the most important part in determining your search rankings.
However, if you're still creating content around specific keywords, you're doing it wrong.
Google has become much smarter over the years and does not need you to stuff your content repeatedly with your target keyword.
Thanks to Google's RankBrain algorithm, it can now understand the context of different searches and display the most relevant results even when the searcher has not entered the exact keyword.
For example, when you search Michael Jordan, Google knows you're interested in basketball. It can differentiate between a person looking for "apple" the brand and "apple" the fruit.
What does that mean for you?
A smarter Google is good for brands and content creators that prefer creating high quality content instead of focusing on SEO all the time.
Your job is to create useful, actionable and high quality content that helps your readers solve problems. It's Google job to rank you for relevant keywords and deliver your content to the people who're looking for it.
In other words, target broad topics and questions in your content instead of keywords.
But does that mean keywords don't matter anymore?
No, not at all.
Keywords are still important, but in a different way.
Instead of repeating your target keyword again and again throughout your content (even when it doesn't make sense) you need to use synonyms and related keyword of your primary target keyword.
The objective here is to create content that reads naturally and is more comprehensive.
In Google's language, it's called latent sematic indexing (LSI) (normal people refer to it as related keywords)
For example, look at the first page results for the search term "morning exercise for men"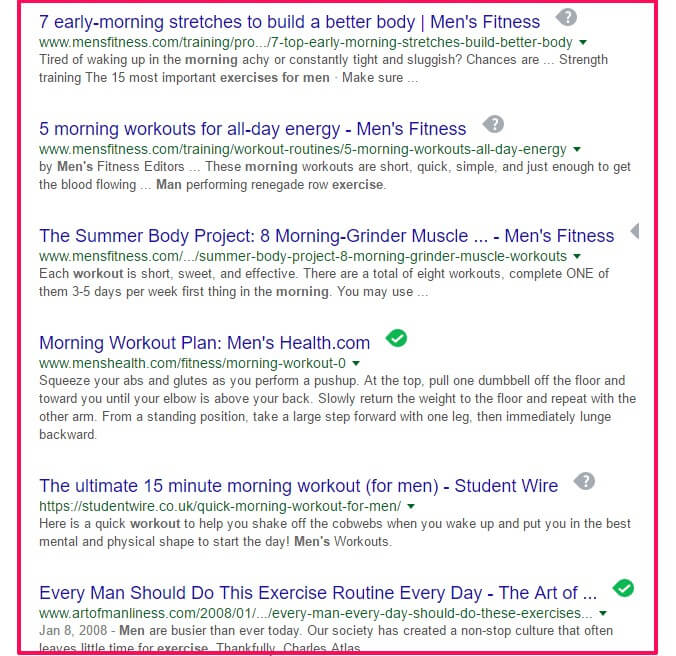 Do you see the exact keyword in any of these results? No.
Because Google understands your query better and knows that terms like "morning routine", "morning workout", "exercise routine", "workout plan" etc. are all related to your search query.
So it shows you what it believes are the most relevant results to your query.
There are several ways to find LSI keywords for your content.
If you scroll down the search page, you'll see related searches for the keyword you've searched on Google. Those are the most relevant LSI keywords which you should look to use in your content when they make sense.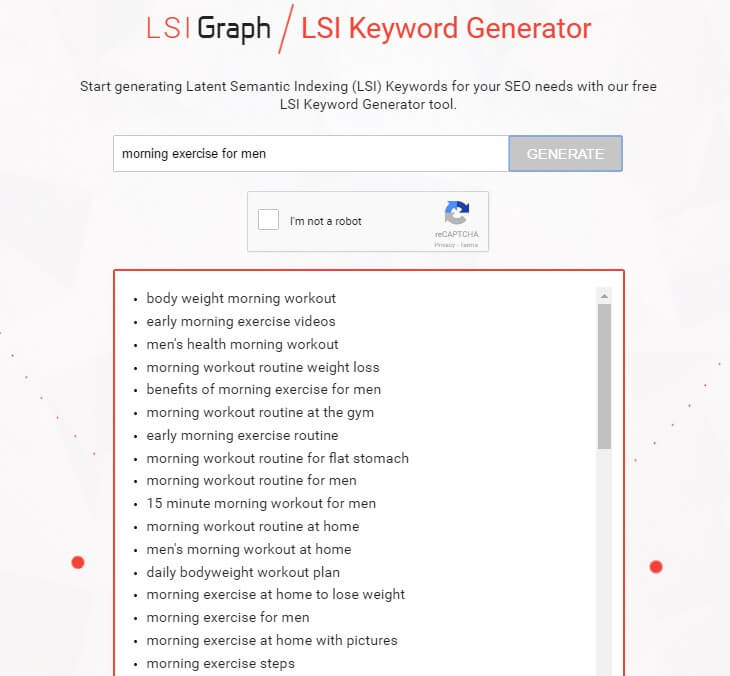 Or you could install a free WordPress plugin to suggest LSI keywords while you're creating content.
In short, if you're a subject matter expert and like to create useful content for your audience instead of focusing on things like keyword placement, keyword density etc., things got a lot easier for you.
It's also an incentive for marketers to create longer and more in-depth content. Because longer content not only means more value and information, but also increases the number of LSI keywords used in your article.
This results in higher rankings on a variety of different keywords.
5. Make Video a Mandatory Part of Your SEO Strategy
If you haven't started creating video content regularly, now's the time.
Video is the most engaging form of content and is growing at an unprecedented rate.
Research shows that Facebook alone receives more than 8 billion video views every day. By the end of 2017, more than 70% of all internet traffic will be generated from videos.
But that's not all.
Video has a direct impact on your search rankings as well. In fact, adding a single video to a page can increase its chances of making it to the first page of Google search by 53 times.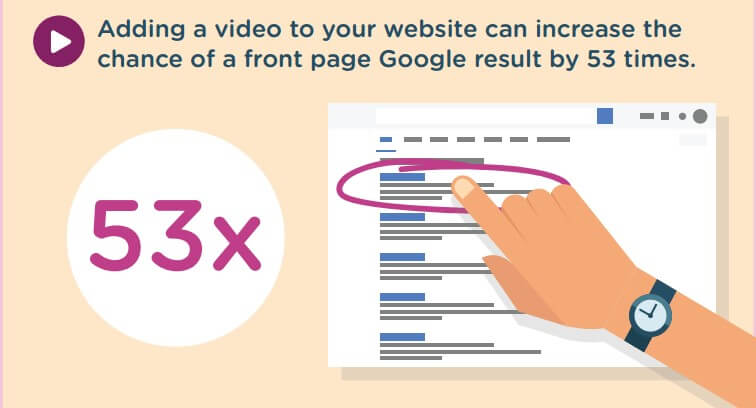 Smart marketers and bloggers like Brian Dean and Neil Patel, regularly embed relevant videos in their blog posts which helps them retain readers for longer, increase their average time on site and reduce bounce rates.
All resulting in higher rankings.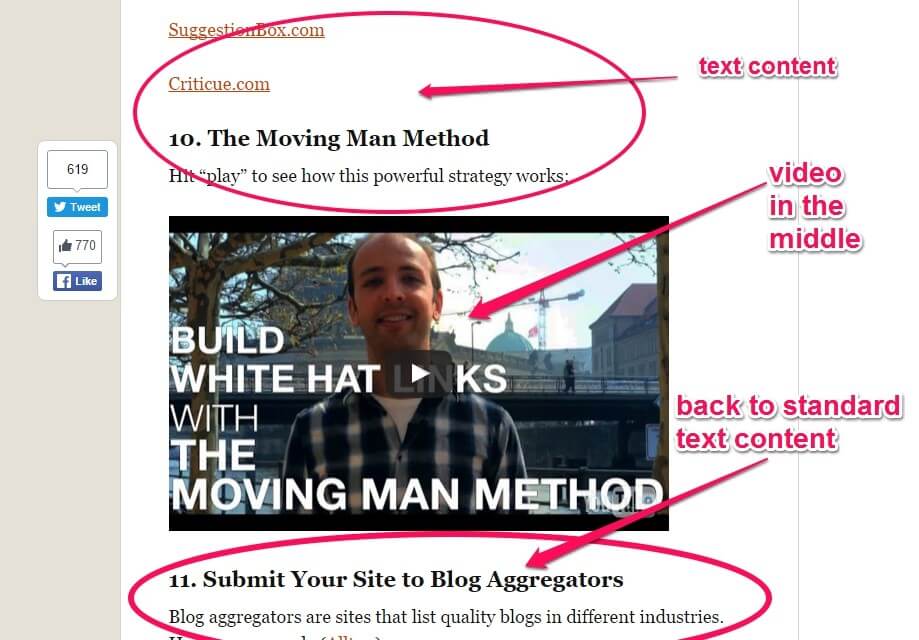 Embedding videos in WordPress is simple.
Just copy the video link and paste it wherever you want it placed in your content. WordPress will convert it into an embedded video itself.
6. Keep Readers Engaged With Smart Internal Linking
Internal linking is a great way to not only keep your readers engaged for a longer period of time, but also to allow Google spiders to index your content more easily.
A strong and well-planned internal linking strategy results in faster indexing of your internal pages by Google spiders, reduced bounce rates, and an increase in your site's average time on site.
All three of these factors play a key role in improving your search visibility.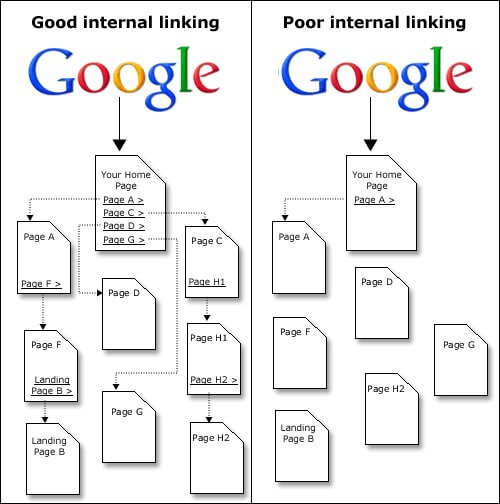 Source: VerticalRail
If your site has a lot of archive content, it can be difficult to look for the right internal pages to link in your new content.
Once again, WordPress makes this task super easy.
When you create links in the WordPress editor, you can search different keywords to find the most relevant content that you can link to.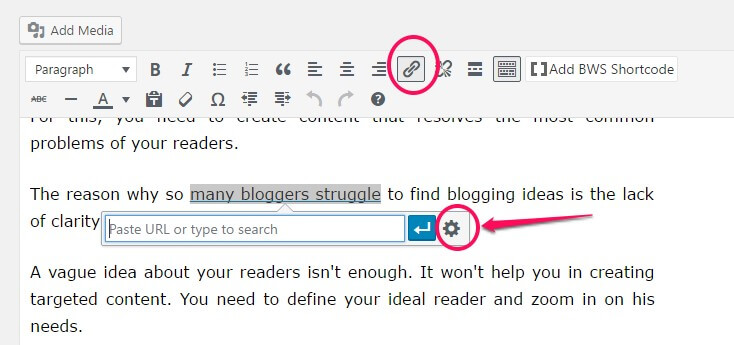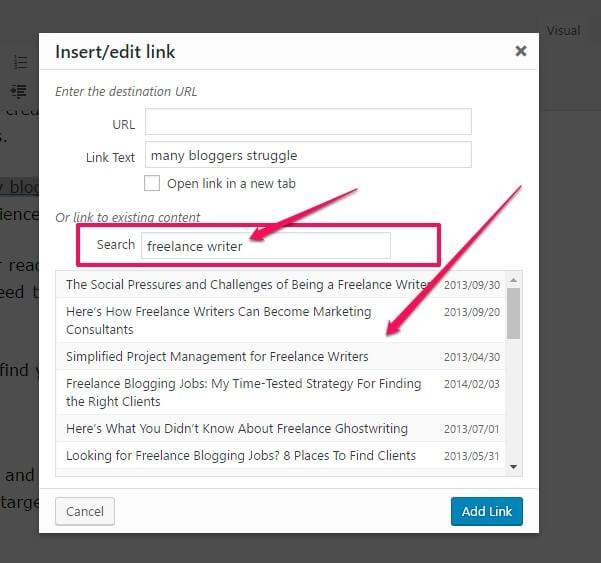 However, there are a few things you need to keep in mind while creating internal links to get the maximum benefit from it.
-Use 3-5 internal links for every 1200-500 word blog post.
-Use internal links that are relevant to your content
-Include your target keyword in at least 1 internal link. But don't overuse exact keyword match anchors.
-Avoid linking too frequently to your homepage or content page since these two pages usually have linked in the header or the footer.
-Don't use the no-follow tag on your internal links so that you can pass on some authority and link juice to the linked pages.
My personal advice on internal linking is to always keep your readers in mind. If you think they'll find a page on your site useful, link to it.
Wrapping Up
SEO is a long-term investment which requires regular content creation along with the right website structure. WordPress makes both these tasks very easy through its search engine friendly options and diverse plugins that simplify content creation to a great extent.
Are you facing any problem if implementing these tips? Or have any other questions that I might have missed in the post?
Just let me know in the comments.