While creating a site backup is essential for your website's security, storing your backups in a secure location is equally important. Unfortunately, many business owners rely on outdated storage solutions (such as flash drives or local servers), which can cause a loss of vital data and an increase in unnecessary headaches.
That's where cloud storage comes in. This stores your data on dedicated servers, and provides unlimited accessibility wherever an internet connection is available, along with an increase in backup file security (given that your files won't be subjected to local server hacks or data loss).
This post is the first in a three-part series on cloud storage. In this piece, we'll introduce you to cloud storage. We'll look at what it is, and why you should consider using it for your WPBackItUp WordPress site backups. In addition, we'll provide you with a few tips for choosing the best storage solution for your business (whether it's cloud-based or not). Let's get started!
Bonus:
Download our 
WordPress Backup Plugin Guide
.  In this PDF we identify 10 must-have features you should consider in your quest for the right WordPress backup plugin.
Cloud Storage: What Is It and Why You Should Use It
Cloud storage is a digital storage solution that utilizes multiple servers (typically across multiple locations) to safely store files (such as site backups). In the past few years, cloud storage has grown in popularity and become a direct challenger to local storage, mainly down to the benefits it provides:
Security. Your site backups will be located off-site and across multiple servers. This means your backup is better protected from data loss or hacking than if it were stored on a local server.
Accessibility. As it's accessible online, you (and your team) can access site backups whenever you need them, regardless of your location. This isn't possible with local storage!
No maintenance required. Given that cloud servers are maintained by a separate company, you won't need to hire knowledgeable IT staff to maintain the server. This will save you thousands of dollars in the long run.
Of course, every storage solution is different, and they often cater to various different use cases. Even so, there are two major players in the field:
Amazon S3: An option that enables file storage (such as backup files) to multiple servers around the world. This solution offers file encryption, and also lets you publicly share certain files.
Google Cloud: The more serious brother of Google Drive, Google Cloud offers unlimited storage space. In addition, it provides improved security and the ability to resume the transfer of files after a failure.
Whether you decide to go with cloud storage or not, it's important to know how to choose the best solution for your business.
How to Choose the Best Storage Solution for Your Business
There are a few things you should consider when choosing the best storage solution for your business. This is true whether you choose cloud or local storage. Let's dig in!
1. Consider Your Current (and Future) Storage Needs
The needs of your business will play the largest role in your choice of storage solution. This is because your current (and future) needs may disqualify you from certain options, or make a certain choice cost prohibitive (such as using local servers for high-capacity storage).
There are two easy ways you can determine your storage needs, and they'll help you to make the best decision for your business (both now and in the future):
Know the current storage space your business needs. This means knowing how large your site backups currently are, in addition to any other vital business files. With WPBackItUp, you can simply view your backup to find out how much space they take up.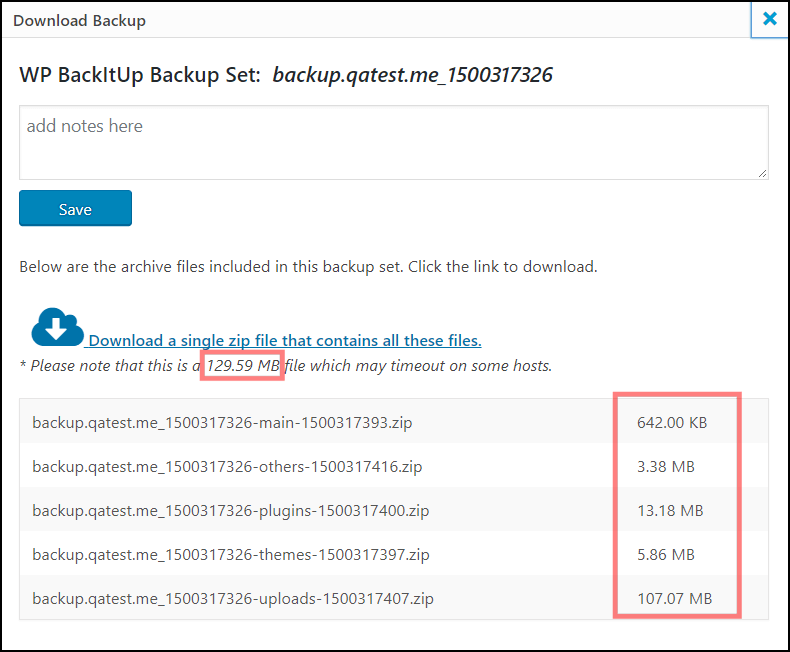 Consider the future storage needs of your business. As media has a tendency to get out of control quickly, it can take up a large part of your storage space, so you'll want to take this into consideration. Ask yourself whether you plan to grow your website in the future, by how much, and whether your site's new incarnation will require additional storage space when saving your backup files.
In the end, you're better off choosing a more versatile option that enables you to expand your storage capacity as your needs change – a storage system that evolves with your business, rather than adding to its limitations.
2. Know What You're Willing to Pay
It's no secret that storage (both local and cloud-based) costs money. However, knowing what you're willing to pay can help to inform your decision. In large part, you get what you pay for.
Only you can determine how much you're willing to pay, but it helps to look at current storage costs and any future costs (especially if you plan to expand your online business needs). Here's how:
Consider your current storage costs. What are you currently paying for storage services, and what are you getting in terms of space, security, and accessibility? Are you willing to increase the costs if it means a more improved offering?
Understand the costs of local storage vs. cloud storage. For both now and in the future, you'll want a solid breakdown of costs. You may be surprised at how much storage you can get, especially if you buy a multi-year license with a cloud storage service.
It helps to think of storage costs as an investment. If security and flexibility (in terms of storage capacity) are important to you, you should be willing to pay a bit more upfront, as you'll end up saving money in the long run.
3. Understand the Pros and Cons of Your Options
Every option has pros and cons, but it's best to know them before making your final decision. By educating yourself ahead of time, you may even be able to mitigate the cons with proper planning.
Some of the more common pros of cloud storage include improved security and accessibility. For some, bandwidth limitations may be a concern. On the other hand, some pros of local storage include no need for an internet connection or in-house support. However, the drawbacks include a lack of accessibility and the constant need to make the effort to backup your data.
In order to settle on the best option, we recommend you follow these two tips:
Do your research. This means reading reviews, comparing your choices in a spreadsheet, and learning how each pro and con will directly impact your business.
Consider which drawbacks can be easily mitigated. For example, if high-capacity cloud storage is cost prohibitive, consider storing only essential files (such as backups) in the cloud and using a cheaper solution for everything else.
The pros and cons of each option will depend on your business. It means you need to carefully consider how each pro and con will impact your business directly. Ultimately, only you know what's best for your business.
Conclusion
When deciding on how to store your WordPress site backups, you'll want to ensure you're selecting the best option for your business. Fortunately, cloud storage is a great choice for the vast majority of businesses, and in a lot of cases it can be very cost-effective.
In this post, we've offered three ways to choose the best storage solution for your business. To quickly recap, you should:
Consider your current (and future) storage needs.
Know what you're willing to pay.
Understand the pros and cons of your options.
Over the next couple of posts, we'll look at topics such as the features to look for in a cloud storage solution, and how to make the jump from local to cloud storage. In the meantime, do you have any questions about how your business can benefit from cloud storage? Let us know in the comments section below!
Image credit: Pixabay.